BMW 5 Series: Parking information
Parking information is a new function in navigation. The parking information is called "On-Street Parking Information" in the vehicle menu.
A probability of there being free parking spaces determined by calculating various values is shown on the navigation map. The data for this calculation is determined by Floating Car Data, among other parameters.
The vehicle must satisfy the following prerequisites which are standard on all G30 vehicles:
Professional Navigation System (OE 609)
Advanced Real time traffic information (OE 6AM)
ConnectedDrive services (OE 6AK)
The scale for the navigation map must not be set to more than 500 m to allow an overview of the parking information to be displayed in the navigation map. The parking information is displayed for a radius of 2 km around the current position of the vehicle.


G30 parking information
Light blue - Medium probability of finding a free parking space (approximately 50%)
Dark blue - High probability of finding a free parking space (approximately 75%)
Activation
Parking information must be activated in the navigation system.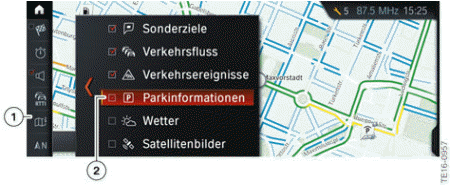 G30 activating parking information
Additional information on map
Parking information
Display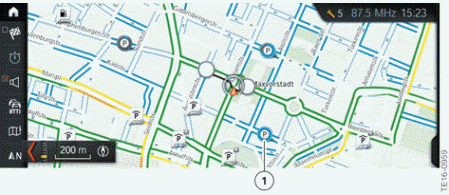 G30 DriveNow parking information
Time information concerning parking spaces freed up by DriveNow vehicles
A "P" in the map display indicates when a DriveNow vehicle leaves a parking space free. The circle around the "P" runs down, like a stopwatch. This lets you see how long ago the DriveNow vehicle left the space. A complete revolution of the circle takes 5 minutes.
Cover
Parking information is a ConnectedDrive service and is available in selected cities. You can call up a list showing these from the menu. At the start, parking information relates principally to a few major cities in Germany. The list can change at any time as this is a ConnectedDrive service. That means that further cities will follow.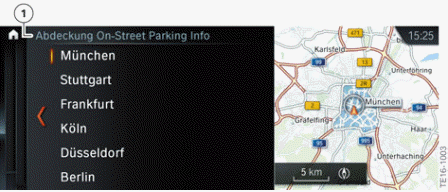 G30 parking information cover
Parking information cover
READ NEXT:
New features in the G30 The G30 builds on the technology introduced in the 7 Series (G12). This Training manual describes the new features or changes with regard to the G12. The table below lists th
SEE MORE:
General information Points of Interest are destinations that can be helpful while driving. Points of Interest such as restaurants, hotels, gas stations, or charging stations, can be added as destinations. Even when the navigation data is current, information regarding particular Points of Interest
Safety information Warning A missing protective effect due to removed or not correctly adjusted head restraints can cause injuries in the head and neck area. There is a risk of injury. Before driving, install the removed head restraints on the occupied seats. Adjust the head restraint so its cen