BMW 5 Series: Introduction, Headunit
Introduction
New features in the G30
The G30 builds on the technology of the G12. This product information manual describes the new features or changes compared to the G12.
The following table shows the new features and changes in the G30 compared to the G12: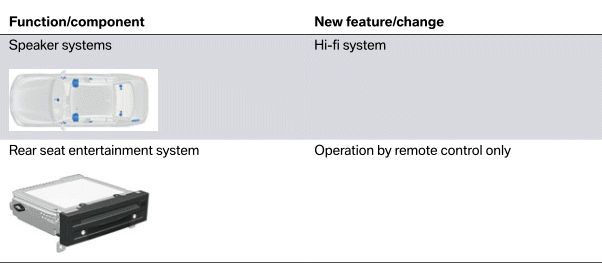 Headunit
Introduction
In the G30, one headunit is installed:
With the G12, the HU-H2 received a function hub with new user interface (ID5). The user interface of the HU-H2 has been revised again in the G30 compared to the G12.
You can find further information about the revised user interface in the "G30 Display and Operating Elements" product information.
Further information
The hardware of the HU-H2 is already known from other BMW models. You can find additional information about this in the following Technical Reference manual:
ST1502 F23 Complete Vehicle
ST1501 G12 Complete Vehicle "section Audio Systems"
READ NEXT:
Overview In the G30, 3 speaker systems are offered. A Hi-fi system is installed as standard equipment. The following table gives you an overview of the speaker systems utilized in the G30: HiFi sy
System wiring diagram G30 System wiring diagram, Harman Kardon system Tweeter, front center Mid-range speaker, front center Headunit Mid-range speaker, front right Tweeter, front right Bass sp
SEE MORE:
Concept This system reduces undesirable vehicle motion when using a dynamic driving style or traveling on uneven road surfaces. General information This enhances the driving dynamics and driving comfort depending on the road surface condition and driving style. Tuning The system offers several diffe
Concept Launch Control enables optimum acceleration on surfaces with good traction under dry surrounding conditions. General information The use of Launch Control causes premature component wear since this function represents a very heavy load for the vehicle. Do not use Launch Control during the b