BMW 5 Series: Control units on the PT-CAN2
Electronic transmission control (EGS)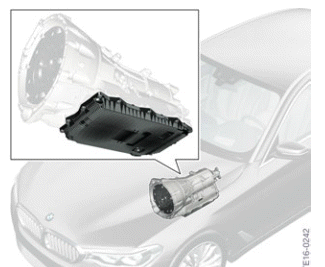 Electronic transmission control (EGS)
Gear selector switch (GWS)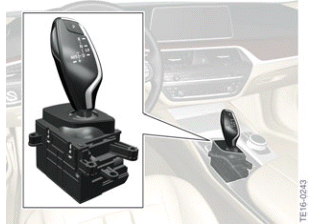 Gear selector switch (GWS)
The gear selector switch (GWS) is used for selecting a drive position.
The bus connection is via the PT-CAN2 and additionally via a local CAN to the electronic transmission control (EGS) unit.
Power Control Unit (PCU)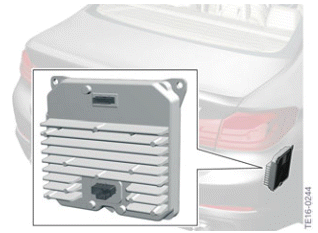 Power Control Unit (PCU)
The Power Control Unit is required:
For charging the auxiliary battery.
For supplying the vehicle electrical system from the auxiliary battery.
The Power Control Unit (PCU) contains a DC/DC converter with a power of 500 W.
The preconditions for the direction of the energy management are calculated from the use of the vehicle. The auxiliary battery is charged by the PCU when the engine is running. During the phases in which the combustion engine is not running, e.g. automatic engine start/stop function, the PCU supplies energy from the auxiliary battery to the vehicle electrical system.
READ NEXT:
Advanced Crash Safety Module (ACSM) Advanced Crash Safety Module (ACSM) The function of the Advanced Crash Safety Module (ACSM) is to evaluate all sensor signals in order to identify a crash situati
The control units on the local CAN are not displayed in the bus overview by the BMW diagnosis system ISTA. Diagnosis takes place via the corresponding primary control unit. Radar sensor (primary) Ra
SEE MORE:
The hidden protector The passive safety system of the G30 is based on the objectives and characteristics of current BMW models. The passive safety system fulfils all legislative requirements worldwide. The restraint systems ensure that the risk of injury is reduced. The 5th generation Advanced C
An emergency avoidance maneuver takes place when a suddenly occurring obstacle is detected in front of the vehicle and the driver has to avoid this obstacle quickly and without "significant" braking. Evasion Aid supports the driver in avoidance maneuvers in emergency situations and calculates an