BMW 5 Series: Collision Warning
The camera-based collision warning is part of the Active Driving Assistant optional equipment (OE 5AS) in the G30 and is implemented using the KAFAS stereo camera.
The collision warning in the new BMW 5 Series contains the familiar Frontal Collision Warning with City Collision Mitigation and Daytime Pedestrian Protection functions.
In vehicles with the Active Driving Assistant Plus optional equipment (OE 5AT), the cruise control radar sensor is also used to control the collision warning.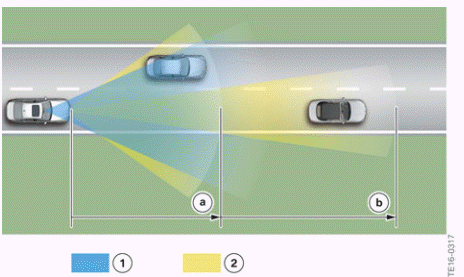 G30 Fusion of the KAFAS stereo camera/ACC radar sensor (diagram of the monitoring ranges)
Close range
Long distance
KAFAS stereo camera detection range
Detection range of the radar sensor
Vehicles with the Active Driving Assistant Plus optional equipment (OE 5AT) have the Active Cruise Control with Stop&Go function integrated as standard.
The system warns the driver in situations where a collision is imminent. The early warning, a visual signal, is issued first to draw the driver's attention to the situation. If the situation becomes more critical, an acute early warning in the form of a visual and acoustic signal is issued. The nature of the warning is such that the driver can still prevent a collision providing he acts quickly.

The collision warning is dependent on the vehicle's own driving speed. The distance measured for the collision warning is significantly lower than the legally required minimum distance. It is therefore the responsibility of the driver to adhere to the legal minimum distance.
READ NEXT:
Displays Early warning: Vehicle symbol lights up red Increase distance and brake if necessary Acute warning: Vehicle symbol flashes red and a signal sounds Request for intervention
The collision warning and pedestrian warning are switched on and off using the Intelligent Safety button. G30 Intelligent Safety button Intelligent Safety button The point at which the early coll
The collision warning has a limited capacity for detection. As a result, incorrect or delayed warnings may occur. It is possible the following vehicles are not detected: A slow vehicle when drivi
SEE MORE:
Safety information Warning Due to system limits, individual functions can malfunction during tow-starting/towing with the Intelligent Safety systems activated. There is a risk of accident. Switch all Intelligent Safety systems off prior to tow-starting/towing. Steptronic transmission: transporting t
General information BMW recommends using vehicle care and cleaning products from BMW. Suitable care products are available from a dealer's service center or another qualified service center or repair shop. Safety information Warning Cleansers can contain substances that are dangerous and harmful to