BMW 5 Series: Adaptive M chassis
Concept
The Adaptive M chassis is a controllable sport chassis/suspension. This system reduces undesirable vehicle motion when using a dynamic driving style or traveling on uneven road surfaces.
This enhances the driving dynamics and driving comfort depending on the road surface condition and driving style.
General information
The system offers several different damping settings.
The damping settings are assigned to the different driving modes of the Driving Dynamics Control.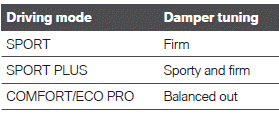 Adaptive M Chassis Professional
Concept
The Adaptive M Suspension Professional is an actively controlled sport chassis/suspension. The system increases driving comfort and minimizes the lateral tilt when driving around curves.
The Adaptive M Suspension Professional encompasses the following systems:
Low-lying sport chassis.
Adaptive chassis.
Active roll stabilization.
Integral Active Steering.
General information
For active control, this system uses the available information, for instance from the navigation system or the Driving style analysis.
This information influences the control of the following systems, especially in ADAPTIVE driving mode:
Adaptive chassis
Active roll stabilization
Integral Active Steering
This further increases the agility and comfort of the vehicle.
The function may be restricted if the navigation data is invalid, outdated or not available, for example.
READ NEXT:
Interior air quality The air quality in the vehicle is improved by the following components: Emission tested passenger compartment. Microfilter. Air conditioning system to control the temperature,
Buttons in the vehicle Climate control functions Temperature Climate control operation Maximum cooling AUTO program Recirculated-air mode Air flow, manual Air distribution, manual SYNC program Defro
SEE MORE:
The settings are stored in the currently used driver profile. Treble, bass, balance, and fader 1. "CAR". 2. "Settings". 3. "General settings". 4. "Sound settings". 5. Select the desired setting: "Treble": treble setting. "Bass": bass setting. "Balance": left/right volume distribution. "Fade
On the G30 the stratification for the driver/front passenger is not adjusted in the usual manner by the knurled wheels on the front dash panel. Instead, there is a menu button located in the center of the IHKA control panel. Pressing this button opens the IHKA menu in the CID. Once the menu is di