BMW 5 Series: Active seat ventilation
Concept
Integrated fans in the seat and armrest areas provide a comfortable seat temperature.
Overview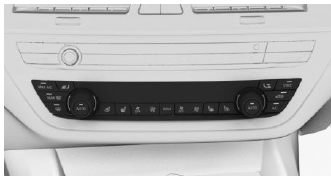 Active seat ventilation
Switching on

Press the button once for each ventilation level.
The highest level is active when three LEDs are lit.
The ventilation switches back by one level after a short time.
Switching off

Press and hold the button until the bar display on the climate control display goes out.
Individual activation
Concept
A number of heating and cooling functions can be automatically activated depending on the external temperature.
General information
The external temperature at which the functions are to be automatically activated can be set via iDrive.
Activation is performed if the external temperature exceeds or falls below the set temperature in the first 2 minutes after drive-ready state has been switched on. A new alignment is carried out after the settings have been changed.
Depending on the equipment package, the following functions can be automatically activated:
Seat heating.
Heated steering wheel.
Seat ventilation.
If the trip is continued within approx. 15 minutes after a stop, the functions are activated automatically with the levels that were last selected.
Functional requirement
The safety belt of the corresponding seat is buckled.
Activating/deactivating
Via iDrive:
1. "My Vehicle".
2. "Vehicle settings".
3. "Climate functions".
4. Select a menu item:
"Steering wheel heating"
"Seat heating"
"Seat and steering wheel heating"
"Seat climate control"
"Seat climate / steer. wheel heating"
5. Select desired seat.
6. Select the menu item of the desired function.
7. Set the external temperature at which the function is to be activated.
8. Set the desired level.
READ NEXT:
Safety information Warning Unattended children or animals in the vehicle can cause the vehicle to move and endanger themselves and traffic, for instance due to the following actions: Pressing the St
General information Pay attention to the specifications and the operating and safety information of the child restraint system manufacturer when selecting, installing, and using child restraint system
SEE MORE:
In the BMW 5 Series, interior design, functionality and comfort have reached an even higher level. The G30 is a pioneer in intuitive operation. The continually upgraded BMW iDrive system makes a range of fascinating new vehicle comfort and infotainment features available to both the driver and th
Engine control unit The new 8th generation of Bosch engine control units already used in the G12 is used in the G30. Its appearance is characterized by a uniform housing and a uniform connector strip. However, the hardware inside has been adapted to the various applications. Two engine control u