BMW 5 Series: Tire pressures
Optimum adjustment of tire pressure is necessary for the following reasons:
Best possible driving dynamics.
Maximum utilization of tire service life.
Reduction of the fuel consumption.
Optimum operation of various suspension control systems.
For this, the physical principles should be observed in combination with pressure and temperature.
The following rule of thumb applies: So a temperature change for every +/- 10 ºC or +/- 18 ºF relates to an increase or decrease in tire pressure of roughly +/- 0.1 bar or 1.4 psi. Please refer to the temperature chart below.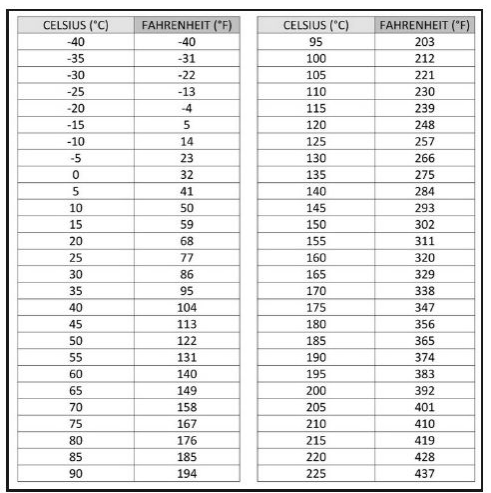 Temperature chart
The tire pressures specified by the manufacturer apply for summer and winter operation, irrespective of the temperature. However, it must be observed that due to the seasonal temperature differences, the tire pressures should be checked frequently.
Cold Tire pressure
If the tire air temperature is the same as the current ambient temperature, this is referred to as cold tire pressure. The tire pressures should only be changed with a cold tire pressure on vehicles without the electronic tire pressure label.
Warm Tire pressure
During longer trips at higher driving speeds the tire warms up due to the friction with the road surface.
The temperature of the tire increases as a result and this is accompanied by an increase in tire pressure.
If there is a significant difference between ambient temperature and tire air temperature this is always referred to as warm tire pressure. Avoid changing the tire pressures when the tire is warm on vehicles without the electronic tire pressure label.
READ NEXT:
Technical functional description An electronic tire pressure label is being used for the first time at BMW. The tire pressure label sticker has been supplemented in the G30 by an additional user menu
The electronic tire pressure label is an extension to the vehicle software. No additional components are required for the integration of this new function. All the information is supplied by sensors
Special sizes (special approval) which are not listed in the menu must be entered by selecting "Other tires". Entering tire special sizes in the electronic tire pressures label on the G30 Special
SEE MORE:
The collision warning and pedestrian warning are switched on and off using the Intelligent Safety button. G30 Intelligent Safety button Intelligent Safety button The point at which the early collision warning is issued can be configured in the "Intelligent Safety systems" menu on the Central I
Double-wishbone front axle in the G30 Support bearing Wishbone, lower Steering box Cross member Universal joint of steering shaft to steering gear Cast side section Strut Service opening Rear stiffening label Steering shaft Universal joint of steering shaft to steering column Triangle