BMW 5 Series: Overview
Button in the vehicle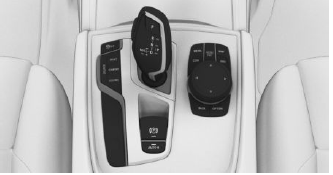 Park assistance button
Ultrasound sensors
Ultrasound sensors of the PDC, for instance in the bumpers.
Functional requirements
Ensure full functionality:
Do not cover sensors, for instance with stickers, bicycle racks.
Keep the sensors clean and unobstructed.
Switching on/off
Switching on automatically
The system switches on automatically in the following situations:
You may switch automatic activation when obstacles are detected on and off.
Via iDrive:
1. "My Vehicle".
2. "Vehicle settings".
3. "Parking".
4. "Automatic PDC activation": depending on the vehicle equipment.
5. "Automatic PDC activation".
The setting is stored for the driver profile currently used.
Depending on equipment, an additional camera view is also switched on.
Automatic deactivation during forward travel
The system switches off when a certain driving distance or speed is exceeded.
Switch the system back on, if needed.
Switching on/off manually
Press the park assistance button.
On: the LED lights up.
Off: the LED goes out.
The rearview camera image is displayed if the reverse gear is engaged when pressing the park assistance button.
READ NEXT:
Signal tones General information An intermittent tone indicates when the vehicle is approaching an object. For instance, if an object is detected to the left rear of the vehicle, a signal tone sounds
Concept The emergency braking function of PDC initiates an emergency braking in case of acute risk of collision. General information Due to system limits, a collision cannot be prevented under all cir
Safety information Warning The system is designed to operate in certain conditions and circumstances. Due to conditions or other factors, the system may not respond. There may be a risk of accident o
SEE MORE:
In February 2017, the 7th generation of the BMW 5 Series G30 will be launched. The G30 contains a wealth of new technologies and design elements that have been further developed and refined. The closed radiator grill and the precise contours of the hood lend the front of the new BMW 5 Series a sp
The Advanced Crash Safety Module has the following system monitoring functions: System self-test (pre-drive check) Display of system operability Cyclic monitoring Fault display and fault storage Output of faults (diagnosis) Acoustic and visual seat belt warning Deactivation of the front pas