BMW 5 Series: Displays and control elements
In the vicinity of the steering wheel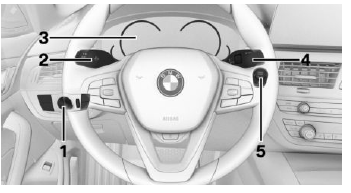 Light switch element
Turn signal indicator, high beams
Instrument cluster
Wipers
Start/Stop button
Indicator/warning lights
Instrument cluster
The indicator/warning lights can light up in a variety of combinations and colors.
Several of the lights are checked for proper functioning and light up temporarily when the engine is started or standby state is switched on.
Driver's door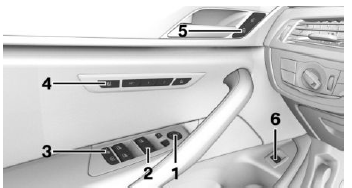 Exterior mirrors
Power windows
Safety switch
Seats, comfort features
Central locking system
Opening the trunk lid
Switch console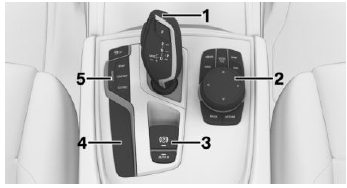 Selector lever/gearshift lever
Controller
Parking brake, Automatic Hold
Parking assistance systems
Driving Dynamics Control
iDrive
Concept
The iDrive combines the functions of many switches. These functions can be operated via the Controller.
Controller
General information The buttons can be used to open the menus directly.
The Controller can be used to select menu items and enter the settings.
Buttons on the Controller

Press once: calls up the main menu.
Press twice: displays all menu items of the main menu.

Opens the Communication menu.

Opens the Media/Radio menu.

Press once: opens the previous display.
Press and hold: open the menus used last.

Opens the Options menu.
Voice activation
Using the voice activation system
Activating the voice activation system
1.

Press the button on the steering wheel.
2. Wait for the signal.
3. Say the command.

The symbol on the Control Display indicates that the voice activation system is active.
If no other commands are possible, operate the function via iDrive.
Terminating the voice activation system

Press the button on the steering wheel or ›Cancel‹.
Help on the voice activation system
To have the available spoken instructions read out loud: ›Voice commands‹.
To have information on the operating principle of the voice activation system read out loud: ›General information on voice control‹.
To have help for the current menu read out loud: ›Help‹.
Information for Emergency Requests
Do not use the voice activation system to initiate an Emergency Request. In stressful situations, the voice and vocal pitch can change. This can unnecessarily delay the establishment of a phone connection.
Instead, use the SOS button close to the interior mirror.
READ NEXT:
Electrically adjustable seats Thigh support Forward/backward, height, seat tilt Upper backrest Backrest width Lumbar support Backrest tilt, head restraint Adjusting the head restraint Adjusti
SEE MORE:
Tire size 245/45 R 18 96 Y 245: nominal width in mm 45: aspect ratio in % R: radial tire code 18: rim diameter in inches 96: load rating, not for ZR tires Y: speed rating, before the R on ZR tires Maximum tire load Maximum tire load is the maximum permissible weight for which the tire is approved.
General information When using run-flat tires or a flat tire kit, a wheel does not always need to be changed immediately when there is a loss of tire inflation pressure due to a flat tire. If needed, the tools for changing wheels are available as accessories from a dealer's service center or anothe