BMW 5 Series: Cup holders
Safety information
Warning
Unsuitable containers in the cup holders may damage the cup holders or be thrown about the car's interior in the event of an accident, an evasive maneuver, or forceful braking. Spilled liquids can distract from the traffic conditions and lead to an accident. Hot drinks can damage the cup holder or lead to scalding. There is a risk of injury or risk of damage to property. Do not force objects into the cup holder. Use lightweight, shatterproof, and sealable containers.
Do not transport hot beverages.
Front
Opening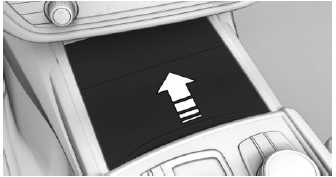 Push the cover forward until it engages.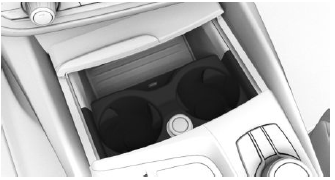 Two cup holders are located in the center console.
Closing
Touch the cover on the handle bar. The cover closes.
Rear
Safety information
NOTICE
With an open cup holder, the center armrest cannot be folded back up. There is a risk of damage to property. Press back the covers before the center armrest is folded up.
Opening and closing
General information
The cup holder can be adjusted for three different container sizes.
Opening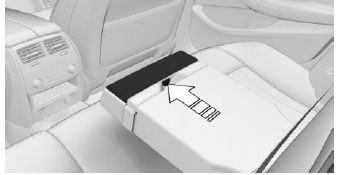 Fold the center armrest forward.
Press the button and fold out the cup holder fully.
Reducing the size
To make it smaller, the cup holder can be folded in in 2 steps.
Enlarging
To make a smaller cup holder bigger, first fold it in completely. Then fold the cup holder out again fully.
Closing
Fold in the cup holder fully, until it engages.
Clothes hooks
Safety information
Warning
Clothing articles on the clothes hooks can obstruct the view while driving. There is a risk of accident. When suspending clothing articles from the clothes hooks, ensure that they will not obstruct the driver's view.
Warning
Improper use of the clothes hooks can lead to a risk of objects flying about during braking and evasive maneuvers. There is a risk of injury and risk of damage to property. Only hang lightweight objects, for instance clothing articles, from the clothes hooks.
General information
The clothes hooks are located in the grab handles in the rear and on the door pillar in the rear.
READ NEXT:
Safety information Warning High gross weight can overheat the tires, damage them internally and cause a sudden drop in tire inflation pressure. Driving characteristics may be negatively impacted, redu
General information Attach load securing aids, such as lashing straps, tensioning straps, draw straps or cargo nets, to the lashing eyes in the cargo area. Lashing eyes There are four lashing eyes in
SEE MORE:
Changing the entertainment source CD/DVD drive Eject CD/DVD Changing the station/track Programmable memory buttons Sound output on/off, volume Waveband/satellite radio Changing the waveband Navigation destination entry Entering a destination via address State/province 1. "Navigation". 2.
Concept The system monitors tire inflation pressure in the four mounted tires. The system warns you if there is a loss of pressure in one or more tires. General information Sensors in the tire valves measure the tire inflation pressure and tire temperature. Using the tire settings in iDrive, the sy