BMW 5 Series: Concept, General information, Safety information
Concept
Various connection types are available for using mobile devices in the vehicle. The connection type to select depends on the mobile device and the desired function.
General information
The following overview shows possible functions and the suitable connection types for them. The scope of functions depends on the mobile device.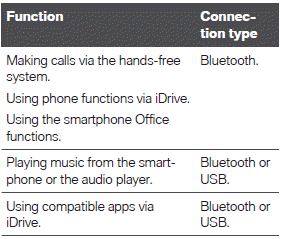 The following connection types require one-time pairing with the vehicle:
Bluetooth.
WiFi hotspot.
Apple CarPlay.
Paired devices are automatically recognized later on and connected to the vehicle.
Safety information
Warning
Operating the integrated information systems and communication devices while driving can distract from traffic. It is possible to lose control of the vehicle. There is a risk of accident. Only use the systems or devices when the traffic situation allows. As warranted, stop and use the systems and devices while the vehicle is stationary.
READ NEXT:
General information Information on mobile devices compatible with the vehicle can be found at www.bmwusa.com/ bluetooth. Malfunctions may occur with devices not listed or deviating software versions.
General information Mobile devices with a USB port are connected to the USB interface. Mobile phones. The snap-in adapter features a separate USB port that is automatically connected when a compa
General information Up to 8 devices can be connected with the hotspot of the vehicle at the same time. Functional requirements Compatible device with WiFi interface. WiFi activated on the device.
SEE MORE:
The most versatile range of Driver Assistance Systems ever for a BMW model was launched with the introduction of the G12. Numerous innovative systems have been introduced and have opened the way for highly automated driving. It is planned that the technical prerequisites will have been laid for
General information Follow the fuel recommendation. Safety information NOTICE With a driving range of less than 30 miles/50 km the engine may no longer have sufficient fuel. Engine functions are not ensured anymore. There is a risk of damage to property. Refuel promptly. Fuel cap Opening 1. To open